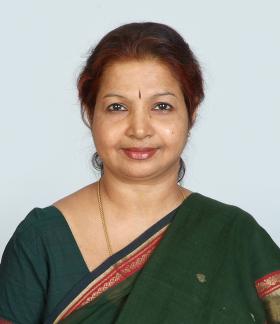 Mrs. Radha Sundararajan, Director of the Sannidhi of Krishnamacharya Yoga (SKY-Yoga). A Vedic Chant Teacher Trainer, Yoga Therapist & Consultant as well as Yoga Teacher Trainer, Radha has been mentored by Sri Krishnamacarya's son and student TKV Desikachar for decades.She has worked in and for this tradition for 25 years and has touched the lives of many students thanks to her committed attitude and vibrant spirit. Former Director of Vedavani for over 15 years, she is a perfectionist when it comes to her speciality: chanting. Radha has practiced Vedic Chanting for over two decades and runs the Vedic Chant teacher training programme of SKY-YOGA in Europe, UK and India.
Her expertise also involves yogic scriptures such as the Bhagavad Gita, Patanjali's yoga sutra etc.
She continues her dedicated work of spreading the Krishnamacharya tradition of Yoga across the world, conducting international seminars along with various programs on chanting.