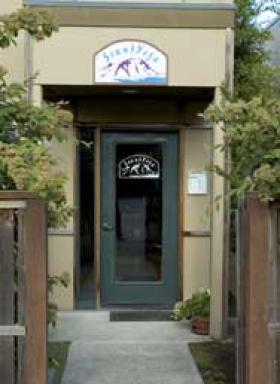 At SoundYoga we offer small group classes (12 max), to support personal growth, through individualized yoga instruction, in a beautiful studio with heated bamboo floors.
In this peaceful setting, there is just you, your body and breath, practicing with a few other students under the guidance of a well-trained yoga instructor. Our classes adapt yoga practice to each individual's needs, body type, health status, and personal life goals. Our teachers are distinguished by the fact that they are all Certified Yoga Teachers in the tradition of Krishnamacharya.
In addition SoundYoga provides classes in corporate settings, weekend workshops on special topics, Yoga Therapy in a one on one setting and 500 hour teacher training, certified by the Krishnamacharya Healing Yoga Foundation and registered with the Yoga Alliance. We also offer a video that incorporates yoga and light weights,
By Vehicle

From I-5: * Take West Seattle exit #163 and go west * Stay on the bridge, don't take any exits * Veer left up the hill. The first light is 35th. Go straight through that light and the next four lights until you come to Alaska Street * Turn right on Alaska * Go 3 or 4 blocks to California Ave SW and turn left on California Ave SW * We are about 8 blocks down (south) on the right side of the street. There is a small lot and parking on the street. There is a sign out front. The cross street is Juneau.