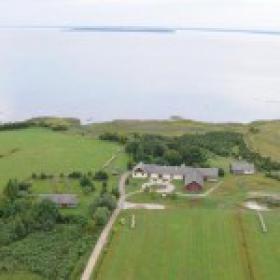 Algallika Guesthouse lies right by the sea in Western Estonia in the Matsalu National Park.
Rooms are less than 100m from the sea.
We have over kilometer of private shore with uncontaminated nature for swimming or snorkeling and coastal meadows with beautiful junipers for walking in full peace and silence, watching birds, sea and islands or climbing on boulders and hiking.
Algallika center is ideal place for personal and organisational development trainings. Our priority is creative and spiritual development trainings, also individual artists and spiritual practitioners are very welcomed.
We have seminar rooms, big barn for meetings, WiFi internet connection, sauna and minispa.
Near to sea there is big open-air fireplace with big swing, you can also order horseback riding or boat trip on Matsalu bay.
By Vehicle

Algallika Center is located to the west of mainland Estonia in Matsalu National Park. If coming by bus take ticket to Virtsu, where we can meet you with car (20 km to our place). If asked, same bus will stop in Kõmsi too, then it is 11 km to our place. Coming with car form anywhere in mainland Estonia, drive toward Saaremaa island (Virtsu port). If starting from Tallinn, take road nr.4, after 27km turn to right (toward Haapsalu, road nr.9). Then after 40km turn left at Risti (road nr. 10). Drive 57km, at Kõmsi take a turn to the right, off the main road where the sign says "KUKERANNA 10km". Drive straight through Kõmsi, the road turns into gravel and, after 4km you arrive in Massu village. The road splits in two here, turn left. From here follow "Algallika" wooden waymarks. After Massu drive 5km to Mõisaküla village. Drive straight through Mõisaküla (do NOT turn left!). 300 meters after Mõisaküla (there is a hillside on the right and you can see the first Matsalu National Park label there) the road splits in two, turn to left, the road slopes slightly downhill. Drive 1km of straight road on the open (there are a couple of farmhouses to the left and right), you will reach the next road split under some higher trees (an old park). Take a left here, following our "Algallika" guidepost. The road proceeds alongside a farmyard and curves to the right, slightly downhill. 1.9 km remains to go now. 800 meters of winding road follows and then branches off, drive straight (the right branch). After 350m of straight path the road splits again, drive straight again (the right branch) for 300 meters more. Finally, the road turns 90 degrees to the left, 250m from the bend you can see the light yellow house with a wooden barn. You have arrived at Algallika Center.